9 Shopify Alternatives for your Online Clothing Store
Nedina Gjorgjieva
---
When deciding on launching an online clothing store, or choosing to expand your business in the eCommerce world and transform it into a click-and-mortar business, one of the very first things retailers must resolve is choosing the right eCommerce platform to host their website. When it comes to picking outbuild a web-building software, there are many things to be considered: feature variety, plugin options, prices and budget goals, inventory, and payment management, to name a few.
Thinking about starting a dropshipping store?
With BrandsGateway's dropshipping service, you can start earning profits in the blink of an eye.
Holding the title of one of the largest global eCommerce platforms, Shopify is usually among the first choices. It offers a great tool assortment to help you build an impressive and attention-grabbing virtual storefront that'll allure many visitors and convert them into loyal customers. With over 1.75 million merchants that sell their products by using the platform's services, Shopify can without a doubt open your way for eCommerce success. However, despite being a popular option, Shopify may not always be the best option for all prospective online retailers.
Regardless of the reason why the platform isn't the most suitable choice for everyone, having a few other possibilities up your sleeve can save you the trouble of searching for other well-qualified eCommerce platforms. That being said, we've taken the time to collect a few more platforms and offer them at your disposal. There are plenty of Shopify alternatives that can provide you with customizable website building, affordable subscriptions, multiple add-ons, and great scalability such as the ones we've gathered below.
Interested in launching a luxury clothing business?
Register for free, start selling BrandsGateway's catalog, and skyrocket your sales.
Wix
First on the list of our Shopify alternatives is the Israel-based website builder Wix. Founded back in 2006, the platform enables you to design a professional site for your fashion store. Whether you're an experienced entrepreneur or are just getting started with online retail, dropshipping with Wix is quite user-friendly-oriented, providing its customers with many features that'll help them create a personalized business website.
Main features to consider
Wix offers more than 100 templates to choose from;
In case you'd like to start from scratch and create a customized design for your website, you can take advantage of the Wix Editor feature which allows you to use the drag-and-drop options, enabling you to move your website's content and elements around and arrange them as you see fit;
You'd have access to over 250 Wix plugins you can integrate into your clothing store;
Once your website is done, Wix will automatically create for it a mobile-optimized version;
Their premium eCommerce plans start at $17 a month, all of which include a free store domain name for a year.
Shift4Shop
Shift4Shop is another well-equipped alternative eCommerce platform for starting your online boutique. Having been on the market since 1997, Shift4Shop dropshipping provides you with a wide range of web designing, marketing, and order and inventory management tools that can assist you in creating and running your store smoothly and efficiently.
Main features to consider
Hundreds of free design themes are uploaded on a daily basis;
A comprehensive collection of Built-in-SEO features like Google analytics and 301 redirects to help you improve your website's position on the SERPs;
Convenient built-in-blog that allows you to share information and post articles regarding your brand and products, and, consequently, drive more organic traffic to your fashion store;
A handy product comparison feature that makes it possible for your customers to look over multiple products side-by-side;
Great flexibility in payment solutions with the platform's payment gateway integrations;
Unlimited storage, allowing you to expose your store to exponential growth and online sales increase;
Free subscription plan for US users, paid plans for international store owners starting at $29 a month;
A Customer support team is available to assist you 24/7.
Squarespace
Squarespace is an American platform offering hosting and web building services starting in 2003. As stated on their page, their goal is to assist people to boost their creativity and use it to design their online shops. So far, it seems like Squarespace has served millions of customers in creating their ideal websites and growing their brands. The platform's great collection of building tools can help you attain the desired results and set up a well-put-together page for your store.
Main features to consider
Full control over product arrangements, descriptions, and media files;
Product Quick View feature which enables your customers to take a look at your product details while staying on the same page;
Integration with Google Search Console to help you stay on track with the most popular keywords your visitors have been searching to find your store and carry out good dropshipping keyword research;
Accessible email marketing services through Mailchimp;
Secure payments with PayPal, Apple Pay, Stripe, and Afterpay;
Expect to pay anywhere from $19 to $65 per month depending on the features you need.
Magento
eCommerce software Magento comes with a variety of helpful tools for website building and business launching. In 2018 the platform was bought by Adobe and since then it offers two web building options: Magento Open source and Abode Commerce. With Magento on your side, you'll be able to scale your clothing business and meet your sales goals as planned in no time.
Main features to consider
Magento allows online shop owners to create their web page independently and customize it to their niche;
The Open source edition provides access to basic page building and managing tools, while the Adobe Commerce version offers more extensive features;
The latter includes various AI-powered extensions such as Product Recommendations and Live Search available for a free download in the Adobe marketplace;
In addition, it also allows you to use a broad amount of Adobe-based products among which are Analytics, Campaign, Advertising, and Audience Manager, Target, and many more;
Payments are managed through the Payment services feature.
Volusion
Volusion is a cloud-based platform with headquarters in Texas, which has been serving online business owners since 1999. It's a great alternative to Shopify as it supplies your store with a number of convenient plugins you can easily integrate with your shop, thus, making your job easier and less stressful and time-consuming. The platform is fairly effortless to manage and get around, making it highly accessible to newbies to online selling.
Main features to consider
A wide selection of creative and mobile-friendly themes;
Opportunity to fully customize your store's website by choosing your homepage elements, creating your own page layout, and picking out from a variety of product display options;
Possibility to take advantage of the platform's design services which connect you with its in-house web design team;
Improving your Google ranking and keeping an eye on your store's performance and dropshipping KPIs through SEO tools and ROI Tracking;
Assisting your customers in finding the desired products through multiple search features;
You can choose from three packages, personal, professional, and business, whose prices vary from $35 to $299 a month;
a 14-days free trial is available before subscribing to one of the plans.
WooCommerce
Launched in 2011 as a plugin for WordPress, WooCommerce is yet another open-source platform that offers an abundance of tools for building eCommerce websites. When comparing WooCommerce with Shopify, the former is an excellent substitute for the latter, able to land you a hand in managing your store's page, generating leads, and achieving profit goals.
Main features to consider
Plenty of responsive storefront templates friendly for both desktop and mobile websites;
Loads of paid and free WooCommerce plugins are available in the WooCommerce Marketplace. For every purchase of three paid features, you can benefit from a 20% discount;
Payments can be conveniently managed by the integrated solution WooCommerce Payments, allowing you to keep track of your sales and revenues;
You can manage your clothing store through the WooCommerce Mobile App and stay informed round the clock;
In case the platform doesn't meet your needs and expectations, WooCommerce offers you a 30-day money-back guarantee.
PrestaShop
PrestaShop is a free eCommerce platform that brings online sellers many advantages such as working with multiple currencies, it's available in up to 75 different languages, and it doesn't charge transaction fees. With approximately 300,000 websites benefiting from its services, the French page building software lets you set up a customized website, and in case you need additional assistance, you can hire their experts to help you create your ideal storefront.
Main features to consider
A fair amount of free of charge and premium website themes customized to various niches including apparel;
Access to PrestaShop Essentials consisting of marketing, social media, metrics, and checkout features;
Offering three Starteck Packs, including an SEO package, to help you generate visitors and acquire new customers;
Wide selection of payment methods consisting of Paypal, SumUp Payment, Skrill, WorldPay, and others;
Setting up your web hosting with PrestaShop's Hostinger solution with plans starting from $2.99/month;
The PrestaShop customer support can be reached at any time in case you encounter issues with your website.
Weebly
Founded in San Franciso in 2007, Weebly is another Shopify alternative worth giving a try as it has been hosting up to 50 million sites worldwide. The platform offers you to design a website tailored to your taste and preferences by supplying you with a bunch of editing tools such as dynamic backgrounds, custom fonts, and an image editor. Furthermore, Weebly also provides you with useful marketing and web optimization features to make your even store more visible.
Main features to consider
Large selection of mobile-optimized page themes including blog, event, business, and portfolio templates;
eCommerce SEO and Analytics tools to give your site a boost and make it easier for customers to locate your store;
Opportunity to use the platform's Abandoned Cart feature which sends out automated emails to customers who've left the checkout page;
Easy to navigate mobile and tablet Weebly app available for both Android and iOS-based smart devices;
The platform offers a free plan which comes with a Weebly domain;
The paid versions cost from $5 to $25 a month and provide a custom domain, unlimited storage, site search, and other helpful features.
Square Online
Last on our list is Square Online, which has been open to online sellers since 2009. This website builder provides you with all the necessary tools for designing a page that's easy to get around, can attract new customers, and promote your online clothing boutique in the best light possible.
Main features to consider
Plenty of editing tools that enable you to showcase top-selling products, highlight sales, and present new clothing collections;
Buy now, pay later option available with Afterplay, which allows customers to pay for their orders in installments;
Integrations with Facebook Shop, Instagram Shopping, and Google Product Listings;
The platform makes it possible to manage eCommerce email marketing promotions through the Square Marketing feature;
A good amount of useful third-party apps can be installed from the Square App Marketplace;
Square offers a completely free plan that comes with basic tools and features;
The paid subscriptions charge a fee of $12, $26, and $72 per month depending on the package you choose.
Here's an overview of all of the above-mentioned Shopify alternatives: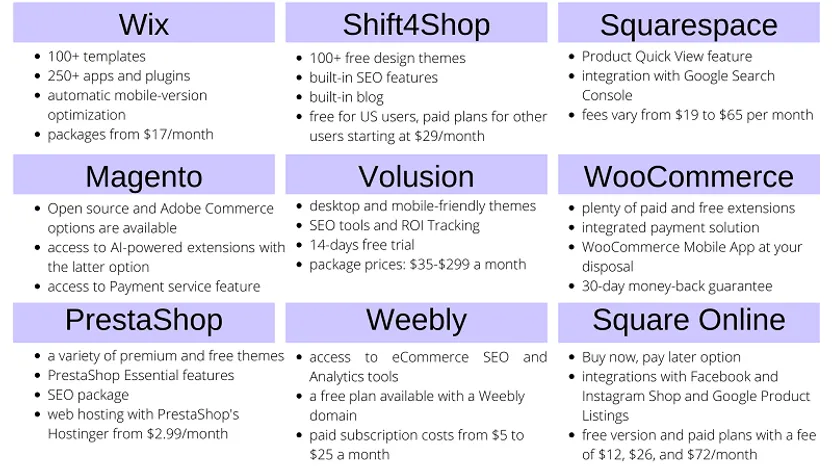 Why choose BrandsGateway as your supplier?
Regarded as one of the most estimable and reliable suppliers as well as a Shopify dropshipping supplier, BrandsGateway will stock up your online clothing store with high-fashion apparel pieces and accessories from some of the most trusted brands. However, with BrandsGateway as your supplier, you won't only benefit from top-notch quality products, but also from automated solutions for up to four eCommerce platforms. Along with Shopify and the BrandsGateway Shopify App, this supplier supports Wix, Shift4Shop, and WooCommerce-based stores as well, providing you with a convenient selection of plugins for your business.
To conclude
Shopify is a great option to lean on when attempting to open an online clothing store. It provides customers with an excellent collection of web-designing tools and great extension choices. However, if you're looking to explore other options with as good features and add-ons, there are plenty of Shopify alternatives out there you can give a go. The selection of web builders we've presented in this article consists of excellent eCommerce platforms that can offer everything that's necessary for creating an eye-catching website for your apparel store.
About the Author
Nedina Gjorgjieva
Proud bookworm, passionate content writer and devoted Arctic Monkeys fan. Always in the mood for travel and sightseeing.